Happy 2015!
The European Enlightenment is a fun topic to teach.  Teachers that tap into their creative energies design classes that have students  wrestle with big ideas,  nurture their curiosity through inquiry, and evaluate how concepts from the past manifest and impact them  today.  The cast of Enlightenment characters invites the opportunity for students to engage in a "talking heads" activity, Socratic seminar, or simulate a French salon (indeed a great idea and one that could be conducted repeatedly throughout eras and with different settings).
Check out this example:
Another interesting aspect of the European Enlightenment is the connection to US History Survey classes. The flow of socio-political ideas was not restricted to the continent. Moreover, the Enlightenment is a great way to introduce the concept of transnational approaches to history which emphasizes the import of flow and hybridity of ideas across national borders and, in this case, across the Atlantic.
But all too often, the European Enlightenment cast of historical characters, like those in other types of historical narratives, has become static.  This is limitation is, whether  in a World or US history class, unfortunate. You can probably identify the usual suspects. As you watch the trailer below, give it a shot:
So, who did you come up with – Locke, Rousseau, Voltaire?  By this role call, the European Enlightenment, revolves on a Anglo-Franco axis. This review from NYS regents exam (below) reinforces that standard narrative as does U.S. History.org   and Hippocampus.
Certainly, the European Enlightenment has more influential thinkers and from other parts of the continent. Who gets left out, and marginalized is just as important as who gets emphasized in history.  Teachers should expand the number and geographic range of thinkers. This empowers students' through a broader content knowledge base and skillset development including application, conceptual thinking, and global awareness.
Here are my suggestions for 5 additions to the standard European Enlightenment. None are from the UK! Take a look and let me know what you think and who should be included!
1)      Emer de Vattel, 1714 -1767 (Swiss)-  When Vattel's  Law of Nations(1758)  was translated to English in 1760, it provided
a foundation for national government and identity.  Ben Franklin shared copies of the text with other revolutionary brothers in the Continental Congress. Vattel's words "A nation is…a society of men untied together for the purpose of promoting their mutual safety and advantage by their combined strength" manifest in the US Constitution a generation later. Historian David Armitage notes that Vattell's writing argued that nations have a right to existence, independence, and equality.  Undoubtedly, this geo-political world view shaped American Independence.
Big Ideas: International Law, Republicanism, Recognizing New Nations
Did you know? George Washington borrowed The Law of Nations  on 5 October 1789 from the New York Society Library.Washington had never returned the book . The former president's overdue fines, it has been calculated, would theoretically amount to $300,000. After learning of the situation, staff at Washington's home in  Mount Vernon, offered to replace Vattel's "Law of Nations" with another copy of the same edition.
2)      Hugo Grotius, 1583 -1648 (Dutch) – Does the concept "natural rights" sound familiar?  If not, here it is referenced in the Declaration of Independence "We hold these truths to be self-evident, that all men are created equal, that they are endowed by their Creator with certain unalienable Rights, that among these are Life, Liberty and the pursuit of Happiness."
 Indeed, Grotius is the giant that Jefferson, Adams, and their contemporaries stood on to see further and establish the Empire of Liberty. If you really want to challenge one of the sacred ideas of the American identity, put forth the idea that the founding father of America wasn't American.  Check this  article out.
Big Ideas: Natural Law, Just War Theory.
More Information: Thomas Jefferson's library included Grotius 1694 The Truth of the Christian Religion. Jefferson made numerous marginal comments. Also, John Adams reference Grotius frequently in his early (pre-1776) opposition writings targeting English law noting that "sovereignty resided in the hands of the people."
3)      Cesare Beccaria, 1738 -1794 (Italian) – Of my four suggestions, Beccaria has the most potential to be someone already taught or referenced by teachers.  Still, he is not solidified as a Enlightenment elite – but deserves to be. His  On Crimes and
Punishment  (1764) tackles topics like torture and capital punishment.  Hmmm, sound familiar as  contemporary topics? He was also a prominent contributor to the Enlightenment journal called Il Caffe (The Coffeehouse) .
Big Ideas: Jurisprudence, Constitutional Law
Historical Scholarship: In Faces of Revolution, Historian Bernard Bailyn claims "In every colony and in every legislature there were some people who new Locke and Beccaria, Montesquieu and Voltaire." In addition, Gordon Wood, in The Empire of Liberty, recognizes Beccaria's influence stating that  "many of the state constitutions of 1776 evoked…Beccaria and promised to end punishments that were 'cruel and unusual' and to make them 'lass sanguinary, and in general more proportionate to the crimes."
4)      Olympe de Gouges 1748 – 1793 (French) – Yes, this selection supports the unsatisfying Anglo-French referenced above.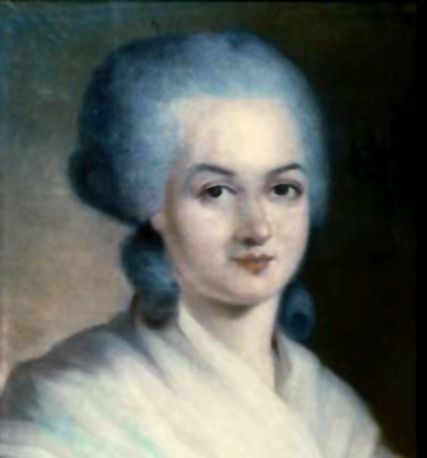 However, she expands female representation in the European Enlightenment usually reserved for Mary Wollenscroft.   De Gouges violated boundaries that most of the revolutionary leaders wanted to preserve and was  guillotined in Paris on the 3rd November 1793.
Big Ideas: Feminism, Humanism, anti-Slavery
Legacy: Her The Declaration of the Rights of Woman (September 1791) tackles social, political, economic, and political issues around gender inequality. Her connection to the Seneca Falls Convention "Declaration of Sentiments and Resolutions" in 1848 and then to Eleanor Roosevelt and her work with the 1948 Universal Declaration of Human Rights provide a fantastic 18th-20th century lineage on the archaeology of women's rights vis a vis the European Enlightenment.
5)       Baron Samuel von Pufendorf, 1632 – 1694 (German) – In our globalized world, von Pufendorf's sentiment about the import of being globally aware, or having a cosmopolitan ethic, is highly relevant today: "those who have the Supream Administration of Affairs, are oftentimes not sufficiently instructed concerning the Interest both of their own State, as                        also that of their Neighbours." Pufendorf, influenced by Grotius,  asserted that international law extends to all nations, emphasizing that all nations are part of humanity.
Big Ideas: Natural Law, History, International Relations
 Top Ten!: Pufendorf is ranked as the 10th most cited thinker by the US "Founding Fathers" (Beccaria is 7th).  Among his text referenced by John Adams include,  The Whole Duty of Man According to the Law of Nature  and Of the Nature and Qualification of Religion, in Reference to Civil Society.
So it is fair to say that the social, cultural,  and political legacy of the European Enlightenment is much more expansive than the Anglo-French narrative espoused in current high school textbooks, curricula narratives and standards.   Expanding, problematizing, and offering alternative narratives is an enriching part of historical study. Providing alternatives, possibilities, and being explicit about the concept of narratives is an Enlightening exercise for your students to engage with is valuable regardless of whether yours students have an end of year exam or not.