Hi everyone!
Digital History and Humanities projects are popping up all around us.  And we want more.  In two previous posts,
part 1 and part 2 of the "…Make You Say Wow!" series I captured a collection of 12 digital projects in each post.  I hope you have shared those wide and far.
Well, 12 isn't enough.   This post ups it to 15 amazing digital projects mainly for the social sciences.  But not only!
And remember, by "Wow" I mean – Wow, I need to use these with my students.  OR …Wow, I need to share these with my colleagues.  OR Wow, I  am inspired to develop my own digital history project.  Of course a synthesis of all 3 is the sweet spot.
Collectively these projects highlight the power of technology in the classroom to make student experiences fun, meaningful, and life worthy.  Enjoy and be ready to be impressed and inspired!
1. Humanities Moments: This is a wonderful project. By illustrating the importance of the humanities for people from all walks of life, the project seeks to reimagine the way we think and talk about the humanities. By highlighting their transformative power, the Humanities Moments project illuminates how our encounters with the humanities fuel the process of discovery, encourage us to think and feel more deeply, and provide the means to solve problems as individuals and as a society. The NHC has also compiled exhibits which are collections of moments.  I have used it with teachers as a team builder to much success.

2. Freedom on the Move: This is a collection of resources that will change the understanding of slavery in the USA. The project is compiling thousands of stories of resistance that have never been accessible in one place. Freedom on the Move will serve as a research aid, a pedagogical tool, and a resource for genealogists. Scholars, students, and citizen historians will be able to use the data produced from the ads in new and creative ways.
3. Whitman, AL – "Song of Myself": This is a powerful digital project.  It is both heart lifting and raises a mirror to ourselves.  For two years, filmmaker Jennifer Crandall crisscrossed this deep Southern state inviting people to look into a camera and share a part of themselves through the words of Walt Whitman. The 19th century poet's "Song of Myself" is a quintessential reflection of our American identities.  For a start, watch this one below and prepare to be moved. You can access the full page here.

4. 1619 Podcast: I was late to the podcast universe.  I am happy I arrived!  In August of 1619, a ship carrying more than 20 enslaved Africans arrived in the English colony of Virginia. America was not yet America, but this was the moment it began. No aspect of the country that would be formed here has been untouched by the 250 years of slavery that followed. On the 400th anniversary of this fateful moment, it is time to tell the story. "1619" is a New York Times audio series hosted by Nikole Hannah-Jones.  This will blow you away!
5. Allsides This is the type of digital content that comes to mind when we talk about the power of technology in education. Allsides expose people to information and ideas from all sides of the political spectrum so they can better understand the world — and each other (see image below). Their media bias ratings, civil dialogue opportunities, and technology platform make learning about media literacy and ideas from across the spectrum understandable.  This is a must for civics classes, at least.
6. American Historical Association: Classroom Materials The AHA is a major contributor to reshaping the way history is taught and learned in the 21st century.One way they do this is through the sharing of curriculum resources. They will continue to add materials over the coming months, and welcomes feedback on how they can make these resources most helpful. Feel free to contact Elyse Martin at emartin@historians.org with questions, comments, or recommendations.  You will certainly find something to use with your students.
7. I Side With…: What a great idea and way to explore your own ideas! Started in March 2012 by two friends with two very different views of politics, the project explores new ways to boost voter engagement and education using information, data, and breaking technologies.  You can explore candidates, issues, and take a quiz that categorizes your own beliefs. It has dynamic searches, data presentation, and translations as well.  Why not use this!?
8. American Panorama Oh boy!  Expect a lot form this project in the near and distant future. American Panorama is an historical atlas of the United States for the twenty-first century. It combines cutting-edge research with innovative interactive mapping techniques, designed to appeal to anyone with an interest in American history or a love of maps. American Panorama is created by the Digital Scholarship Lab at the University of Richmond.
9. Syrian Journey: From the BBC This is a unique interactive game centered around the questions: "If you were fleeing Syria for Europe, what choices would you make for you and your family?" Take our journey to understand the real dilemmas the refugees face and develop empathy.  The routes, options and outcomes in this Syrian Journey feature were based on real stories uncovered by extensive research as part of a BBC Arabic digital project exploring migration from Syria.
10. World Religions Map Explore religious beliefs around the world through an interactive map produced by WGBH. The interactive opens to show a map that displays the religions that are the most prevalent in each country around the world. You may then click on one of eight religious groupings listed in the menu to examine its relative popularity in each country.
11. Global Closet Calculator What a great way to bring the global to the local context. From National Geographic, The Global Closet Calculator aggregates the contents of your own closet by origin to generate a map showing your unique global footprint, and puts you in charge of the global journey your stuff takes to get to you. In the first part, students can see the ways in which their clothes and accessories connect them to people and places around the world. The second part will call on their critical thinking and geographic decision-making skills in an adventurous investigative journey.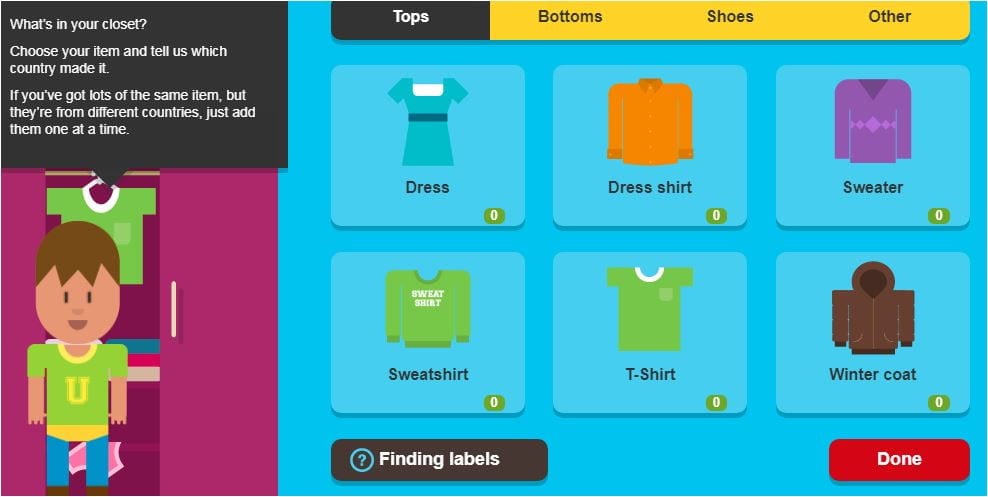 12: Voices of Democracy: The US Oratory Project:The Voices of Democracy project promotes the study of great speeches and debates in U.S. history. The emphasis of the project is on the actual words of those who have defined the country's guiding principles, debated controversial social and political issues, and shaped the identity and character of the American people. With a view toward reinvigorating the humanistic study of U.S. oratory, the Voices of Democracy project aims to foster understanding of the nation's principles and history and promote civic engagement among scholars, teachers, and students. You can search by era, speaker, and topic among other ways. Great collection to add to your resources.
13. Google Virtual Tour Creator Yeah, this is spectacular.  Google provides free access to virtual tours that have been made and shared AND a platform so that you, and students,  can create your own.  The interface is easy and you don't need VR goggles.  I checked out these shared ones as a start – Global Dome Architecture – The Globe Theater – Your 5th Grade Classroom  How great is that last idea to send to parents and incoming students?
14. UN SDG Action Campaign If your students aren't aware of the UN global goals, they should be.  If your students aren't being given the opportunity to take action as part of their learning, they should be.  Combine the two and you get the UN SDG Action Campaign.  Among the resources on this site are a taking action toolkit and a free online course.  There is an app as well that allows you to design and track your own action plan.  
15. Common Lit This is remarkable and totally free.  What a great way to present students with choice and demonstrate how to explore genres on a topic.  CommonLit delivers high-quality, free instructional materials to support literacy development for students in grades 3-12. Our resources are:
Flexible;
Research-Based;
Aligned to the Common Core State Standards;
Created by teachers, for teachers.
We believe in the transformative power of a great text, and a great question. It includes a dynamic search.  Please try this soon!